Introduction
We love Halloween. It's America's second biggest holiday in terms of spending (Christmas is first), and the country will spend about $3 billion on candy this year.
That's the treat. Now for the trick: inflation. According to The Wall Street Journal, the cost of Halloween Candy in 2022 saw a 13% increase over last year thanks to "surging labor costs and skyrocketing flour and sugar prices."
Considering the rising cost of candy, can we make better choices by buying the brands that our neighborhood's costumed halloweenies really want? I wanted to know what those brands are, so I ran a study to find the ones most loved and to see how the different preferences among genders and regions of the country compare.
Survey participants were recruited from Reddit, a paid Facebook ad, and through personal contacts. I seeded the survey with 14 candy varieties that are often cited as America's favorites for Halloween (here in alphabetical order):
Butterfinger
Candy corn
Hershey Miniatures
Hot Tamales
Jolly Rancher
M&Ms
Milky Way
Reese's Peanut Butter Cups
Skittles
Smarties
Snickers
Sour Patch Kids
Starburst
Tootsie Pops
Twix
Survey participants contributed one valid idea that was fed back into the survey for subsequent participants to judge, bringing the total number of ideas to 15:
Seventy two people provided votes within acceptable parameters. They voted on 105 theoretical Halloween candy matchups for a total of 3,501 pair votes, casting an average of 48.6 votes for each pair challenge.
What Is pairLab and Why Use It?
pairLab is a novel and powerful prioritization tool that helps you make decisions by revealing what people care about most and by how passionate they are about their priorities. Studies like this are critical for product managers and business stakeholders who need to prioritize product features. It's the kind of tool that, once you've seen how it works, you wonder how you ever lived without it. Here, I'm using it to find consumer preferences across a variety of brands.
Results
This study found that overall, Reese's Peanut Butter Cups reign as the most favorite Halloween candy. Reese's is preferred 1.4 times more than the number two candy, Twix (Snickers rounds out the top three). Here's how the candies ranked by preference for all survey participants: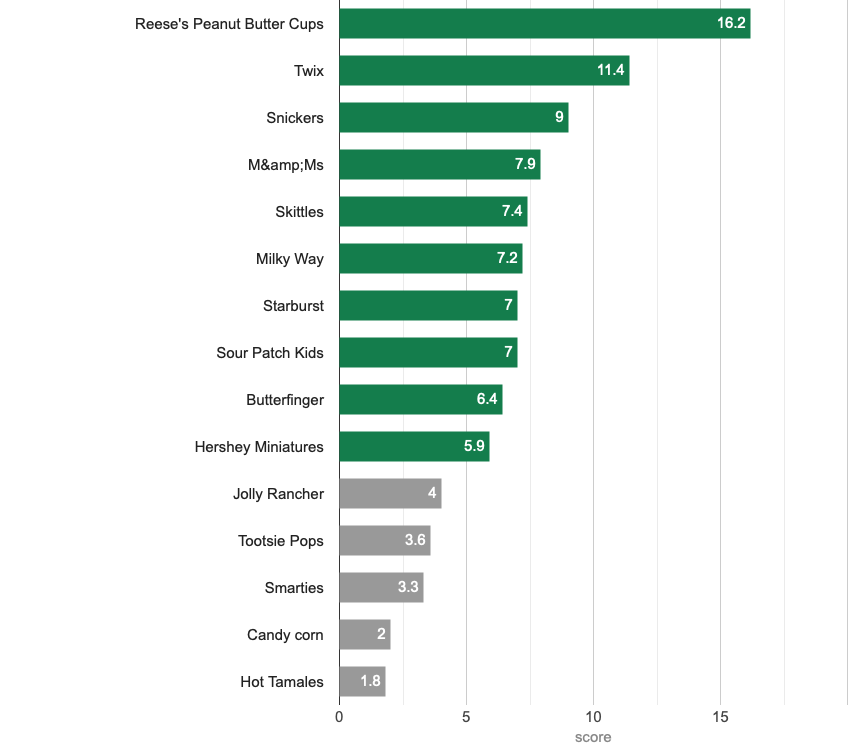 pairLab also looks at priorities by customer segment.  Reese's was the top choice among all genders (male, female and other), and in the Northeast, South, and Pacific West. Twix took the top spot in the Mountain West and Midwest.
pairLab makes priorities comparable, and we can say how much more people prefer one candy over another. The difference between the first- and last-place aspects are considerable. Users prefer first-place Reeses 8.6 times more than last-place candy corn.
pairLab also breaks down priorities by customer segments and compares them to find deep insights. This study analyzed genders (male, female and other) along with regions of the country (northeast, south, midwest, mountain west and pacific west). Differences between segments are surprising. Who knew that women prefer Milky Way and Hershey Miniatures, while men do not, and that men prefer Butterfinger, while women do not? (Both say that Jolly Rancher, Smarties, Tootsie Pops, Hot Tamales and Candy corn are not their favorites.) 
What Halloween Candy Should You Give Away in 2022?
Reese's or Twix will put a smile on most faces across all genders and regions of the country. These candies were either the top two preferred candies or in the top two, except in the Midwest (see below).
When looking closer at segments, especially as they compare, we can see other preferences that could change what you buy and give away:
Men and women disagree over Snickers. Men love them, women not so much. The same is true for Butterfinger. However, women said they value Hershey's Miniatures, while men do not.
The Midwest prefers sour flavors over peanut butter. This region of the country values Sour Patch Kids very highly (it ranks no. 2, behind Twix), but unlike the rest of the country, it's not particularly in love with Reese's Peanut Butter Cups. The Pacific West also values Sour Patch Kids higher than other regions do.
The Northeast and Mountain West don't have a lot of love for Skittles. Other regions of the country prefer Skittles, just not in the Northeast and Mountain West.
The Mountain West also doesn't want Starburst. It, along with Skittles, ranked last in this region.
And then there's candy corn. Poor candy corn. It's the classic Halloween Candy. It's cheap and sold in large quantities. It pains me to say that candy corn likely ends up in the trash (I like it, though). Candy corn was consistently ranked at or near the bottom for all segments (Hot Tamales wasn't far behind). Use the candy corn for decoration and don't expect many people to eat it.
That's not the whole story as far as Halloween candy goes. There's much more, the details of which you can find in the attached 39-page report with all the data and analysis.